Related Links
Case Updates
Close Encounters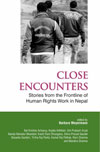 Torture Compensation
« previous | items: 1 of 1 | entry 1 to 4 | next »
Case Summary:
On Aug 8, 2009, policemen arrested Arjun Gurung citing that they had something to ask him about a robbery in his neighborhood. After interrogation in the police office, they released him with a condition that he would report to them whenever they ask him. He reported to them regularly for 4 to 5 days and on the 6th day a policeman whose surname was Giri beat Gurung up with 8 to 10 sticks asking him about the robbery. The victim and his relatives exchanged heated words with the police for beating up an innocent man for no reason. On 1 September 2009 policemen arrested Gurung from his home. On that day and the next day, policemen inflicted severe torture on Arjun Gurung asking him to own up the robbery that he did not commit. Even DSP Basanta Kunwar inflicted torture on Gurung and threatened him to charge him falsely of possessing illegal drugs. Gurung has sustained physical and mental problems due to the torture.
» more
Bharat Sharma, 30, (DoB: 30 Sept 1981), son of Sita Ram Sharma and Geeta Devi Sharma, a permanent resident of Sagarmatha VDC -4, Ramchowk, Janakpur, Dhanusha District and  temporarily living at Tahachal, Kathmandu was arrested and tortured by police. He is a Carpenter by profession.

» more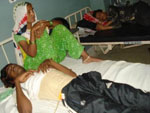 Mr. Nijamiddin Sekh alias Bablu, 21, a permanent resident of Nepalgunj Municipality-16, Bilaspur, Banke district was arrested by police at around 8.45 am on 21 July 2011 [2068/04/05] and taken to Banke where he was blindfolded and tortured by beating inhumanly. According to the victim he was blindfolded and handcuffed on back and pushed from a high place. When he came round he found himself on a hospital bed and his backbone was broken. He is a carpenter by profession.
» more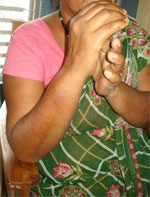 Ms. Harkali Pun, 49, a permanent resident of Motipur VDC- 6, Mangalpur, Bardiya district was arrested by women staffs of Maiti Nepal, an NGO working against women trafficking and handed over to police at around 12 noon on 12 July 2011 [2068/03/28] in charge of human trafficking. She was given arrest warrant and detention letter on 14 July 2011 [2068/03/30] with the effect from the previous day. The same day [14 July 2011] she was remanded for the first time for 5 days with the effect from the previous day and for the second time she was remanded for 10 days on 18 July 2011 [2068/04/02].
» more
« previous | items: 1 of 1 | entry 1 to 4 | next »