Related Links
Case Updates
Close Encounters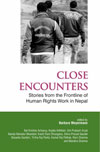 Prevention of Torture Department
It advocates for the application of international and regional standards prohibiting torture and effective implementation of and reforms on existing legislation on torture. The department carries out following activities:

Preventing torture by regular visiting of places of detention
Legal intervention in the cases of torture
Sensitize Criminal Justice Stakeholders
Capacity building, institutionalizing, human rights training to police, judges, public prosecutors of major stakeholders
Criminalization of torture and monitoring of the implementation of the  torture act
Legal, medical and psychosocial support to torture victims
Lobby for the ratification of optional protocol to convention against torture (OPCAT)
Research on the impact of torture on detainees
Case Communications national and international bodies
A recent evaluation report from an independent evaluator has recognized AF's efforts to prevent torture in Nepal as a model intervention strategy.
Click
"Mid-Term Evaluation Report"
to access to the full-text.
« Back to overview