Related Links
Case Updates
Close Encounters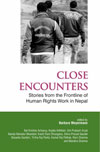 Fellowship
Advocacy Forum (AF) is a leading non-profit, non-governmental organization working to promote the rule of law and uphold international standards for last 10 years. Since its establishment, AF has been actively confronting the decades-old culture of impunity by systematically documenting human rights abuses, visiting detention centres, and formally initiating litigation on behalf of victims.
With the aim of empowering media personnel in covering human rights issues, Advocacy Forum announces fellowship to media personnel working in different media houses. The fellowship is open to media personnel from all over the country. The fellowship will be of 45 days and will support media personnel to write features, articles, interviews and documentary in both print and broadcasting media. Please click
download
for the details of the fellowship.