Related Links
Case Updates
Close Encounters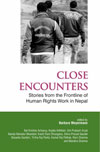 Birendra Shah
Details of the Incident:
On the evening of 5 October 2007, Mr. Birendra Shah, 34, resident of Inruwasira VDC-8, Bara district, a local journalist of Bara district and correspondent of Nepal FM, Avenues Television and Dristi weekly, was abducted by Maoists from Pipara Bazaar in Kalaiya, the district headquarters of Bara district, located at the central region of Nepal.
According to the information provided by Mr. Ramesh Bista, a central committee member of Federation of Nepali Journalists (FNJ), Nepal, Birendra Shah was abducted by the members of Maoists named Kundan Faujdar, Ram Iekal Sahani and Lal Bahadur Chaudhary from Pipara Bazar however there were some other Maoists involved whose names are not identified yet. Ramesh Bista stated that Birendra Shah was abducted for writing news on Maoists (news against Maoists).
At the meantime, Ram Dev Das who was together with Birendra Shah was also abducted by Maoists. He was reportedly beaten up and then released on the same day. Quoting Ram Dev, Ramesh Bista said that Birendra was also beaten up severely by the Maoists and also threatened to be killed.  Ramesh Bista said that the Maoist Bara district authorities refused to take responsibility. However, they escaped saying those main responsible Kundan Faujdar and Lal Bahadur Chaudhary had already been dismissed from the party before the incident but they didn't say anything about another involved Mr. Ram Iekal Sahani.
Update:
Mr. Birendra Shah who was abducted by Maoists on 5 October 2007 was found dead at Dumarwana village, near Tangiya colony at Bara district on 8 November, 2007. An investigative commission set up by the Communist Party of Nepal (Maoist) has revealed that Mr. Shah was murdered by his captors on the same day he was kidnapped. The report made public in a news conference organized at the CPN-Moist central office in Buddhanagar, Kathmandu, on November 5 stated that Shah was shot and killed by the captors in the evening of October 5. According to the report, Mr. Shah and his colleague Ramdev Das were kidnapped from Pipara in Bara by Maoist cadres Kundan Faujdar and Ram Ekwal Sahani and were presented before Lal Babadur Chaudhary, a Maoist area in-charge in Bara. While on the way, the kidnappers released Das, but took Shah with them and then they took him to an open ground inside the jungle and shot him dead. Ram Ekwal fired two bullets from his pistol, one in the chest and one in the temple, killing Shah on the spot.
According to the central leader of Maoists who was team leader of investigative commission as well Mr. Haribhakta Kandel 'Pratik', Sahani and Faujdar had been expelled from the party some time back while Chaudhari has now been relieved of all his party responsibilities. Pratik claimed that the episode has to do with personal enmity between Shah and his captors and that the party would fully cooperate with law enforcement agencies in bringing the culprits to justice. However, no one has been arrested yet. Probe reports publicised by media groups, a parliamentary committee and the National Human Rights Commission had also confirmed the involvement of the Maoist cadres in Shah's abduction.
« Back to overview