Related Links
Case Updates
Close Encounters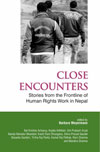 Chot Nath Ghimire and Shekhar Nath Ghimire
Victims' Details:
Name: Chot Nath Ghimire and Shekhar Nath Ghimire
Date of Incident: February 2, 2002, and February 7, 2002, respectively
Age: 58 and 45, respectively
Address: Ishaneshwor VDC-4, Ratmate Majhpokhari, Lamjung District
Perpetrators' Details:
1. Major Khagda Bahadur Ranabhat of Unified Command Base Camp situated at Bhorletar VDC-6, Lamjung District;
2. Jamdar (warrant officer) Rabindra Chemjong of the same Camp.
Summary:
Chot Nath Ghimire, a 58-year-old farmer, resident of Ishaneshor VDC-4, Ratamate Majhpokhari of Lamjung district was allegedly arrested by the Joint Security Forces of Joint Security Camp stationed at Bhorlatar VDC, Lamjung district on February 2, 2002 (2058.10.20). The security camp called Mr. Ghimire and some villagers to interrogate about the death of Kedar Ghimire who had been killed by Maoists. Most of the villagers were released after inquiries but Chot Nath Ghimire and Shekar Nath Ghimire were never released.
Shekhar Nath Ghimire, a 45-year-old male, farmer by profession, permanent resident of Ishaneshor VDC ward no. 4, Lamjung District was arrested by a group of armed and uniformed Nepal Army soldiers on February 6, 2006 at around 11 am while he had gone to Garundal Gulm security base camp at Bhorletar VDC of Lamjung District for reporting. He was called at the security camp to take inquiries about the death of Kedar Ghimire.
Details of the Incident and Development:
Between 2000 and 2002, Chot Nath Ghimire was arrested and released by the security forces on a number of occasions under suspicion of being a Maoist supporter. On January 26, 2002, the head of the Bhorletar Unified Command Base Camp asked Chot Nath to present himself at the camp. Chot Nath dutifully went to the camp the same day. He was subsequently asked to report to the camp on a daily basis. He was last known to have gone to the camp on February 2, 2002, but he did not return. Chot Nath's family members went to the camp seeking to confirm his whereabouts, but the army personnel denied his arrest and detention.
On the morning of February 7, 2002, authorities from the Unified Command Base Camp summoned Shekhar Nath, cousin of Chot Nath, to meet them at the army camp in Bhorletar. Shekhar left for the camp and his family members did not hear from him again. In late 2002, Shekhar's elder brother-in-law filed a habeas corpus writ petition at the Appellate Court in Pokhara, but the police denied his arrest. A report released by the Disappearance Committee, led by Baman Prasad Neupane, published on July 25,
2006, mentioned that Shekhar Nath's whereabouts remained unknown.
On September 20, 2006, the same Disappearance Committee, mentioned in its report that "the Committee has received information from the NA Human Rights Cell, in a letter dated April 18, 2006, that Chot Nath was making daily visits to the Bhorletar barracks of the Nepali Army." Chot Nath's family intensified their search for him after they received this information. On October 15, 2006, his family filed a habeas corpus writ petition at the Supreme Court.
Several former detainees from Bhorletar army camp also informed the families that they had seen Chot Nath and Shekhar Nath Ghimire at the Bhorletar army camp. On November 3, 2006, after a period of intense searching that had been inspired by a tip from local villagers, the family discovered Chot Nath's clothes in the jungle at Saura, situated at Hansapur VDC-9. After the recovery of his clothes, Chot Nath's body was exhumed from the jungle by personnel from the DPO in Kaski on November 4, 2006, in the presence of NHRC officials. No forensic experts were involved. Chot Nath's body was found approximately 20 meters from the place where another body, that of Shekhar Nath Ghimire, was found. Chot Nath's family identified his body on the basis of the clothes, a wristwatch, and an artificial tooth recovered from the exhumation. The time of his death could not be established. Shekhar's family received no information on why, when, or how he was killed.
Official Action:
The DPO in Kaski registered a FIR on November 19, 2006. Immediately after the exhumation was carried out, the DPO in Kaski sent the remains to the forensic laboratory of Nepal Police in Kathmandu. As of August 2008 no further development in the case had been reported.
Update (September 2009):
As of August 2009, the Kaski DPO had not taken any action on the FIR.
On June 18, 2009, Chot Nath's and Shekhar Nath's families filed separate petitions of mandamus at the Kaski Appellate Court seeking orders for the Kaski DPO and Public Prosecutor's Office to promptly investigate the FIR. On June 19, the appellate court issued "show cause" orders asking for reasons why the mandamus should not be issued within 15 days. On September 13, the court finally received answers from the respondents. The next hearing is scheduled for October 28, 2009.
The NHRC regional office in Pokhara has informed the family that its investigation into the killing of Chot Nath Ghimire and Shekhar Nath Ghimire is almost completed.
« Back to overview