Related Links
Case Updates
Close Encounters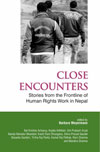 What We Do?
Advocacy Forum (AF) takes a proactive, empirical and sustainable approach to dealing with human rights violations. We devise innovative strategies and take to interdisciplinary approaches to handle our activities, which are zeroed in on combating the vicious cycle of impunity afflicting the people. AF's adopts the following Strategic Approaches:
Documentation and Monitoring of Human Rights

Visits to detention center, fact-finding trips, documenting cases of human rights violations; monitoring the functioning police and administrative bodies, and critical review of laws and policies that contradict with international laws.


Emblematic cases

Taking up emblematic cases help to bring concerted, coordinated and sustained pressures in these cases both nationally and internationally.


Focused Policy Advocacy

Research-based advocacy aiming at reform of policies and laws to comply with international standards and practices; enhancing access to justice for the poor and marginalized, including transitional justice for conflict victims; fighting the culture of impunity; reform of the criminal justice system; and promotion of a fair juvenile justice system in line with international standards.  


Capacity Building of Local Organizations

Capacity building measures (skills training, workshops, exchanges and so on) to enhance the organizational and leadership capacity of the relevant stakeholders


Legal Aid

Legal aid involves legal advice and counseling, legal representation, bringing cases on behalf of victims of human rights violations both at national level and internationally
So extensive is the breadth of our activities that not a single incident of import regarding the issue of human rights escapes unattended by us. Currently, we have five well-resourced thematic departments inherently guided by our mission, vision and objectives. These departments, however, aren't separate entities in themselves but work in close coordination and complement each other in total symbiosis:
Besides, the
Research, Advocacy and lobbying
forms an integral part of AF's work.
« previous | items: 1 of 1 | entry 1 to 6 | next »
The department more generally works to uphold proactive and accessible legal aid system in Nepal. Besides providing free legal aid and counseling to indigent detainees, it promotes fair trial standards and works for reform and improvement in Nepalese criminal justice system.
» more
The department oversees the implementation of various programs on transitional justice in Nepal. The aim of the department is to contribute towards Nepal's attempt to post-conflict recovery and retroactive justice by increasing access to justice for victims.
» more
The department specifically aims at challenging impunity and promoting accountability in torture and ill-treatment in Nepal in general and prevention of torture common in government detention facilities in particular.
» more
The department systematically documents and processes the cases of human rights violations committed by the state and non-state actors with an aim to combat impunity through raising cases of human rights violations to national and international authorities concerned including UN Mechanisms and courts.
» more
The department is focused on monitoring Child Rights Violations (CRVs) including the effect of conflict on children and promoting the establishment of juvenile justice system along with making it more functional.
» more
Besides being a hub of research vis-à-vis various areas relating to human rights in Nepal, AF has also played a major role in mobilizing the national and international opinion to respond to the human rights situation in Nepal.
» more
« previous | items: 1 of 1 | entry 1 to 6 | next »