Related Links
Case Updates
Close Encounters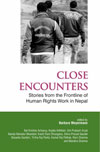 Research, Advocacy and lobbying
The researched articles and books are published and duly disseminated nationally and internationally (See Publications). These research works and findings of daily departmental works are used strategically for advocacy/lobby at the international level. All AF departments work in close coordination with each other to carry out tasks related to research, advocacy/lobbying.
The major challenge to the protection of human rights in Nepal is the reigning culture of impunity. We campaign against impunity and are vociferous for the reform of law and policy which is inconsistent with Nepal's international obligations. We work for the enactment of comprehensive legislation which adequately addresses disappearances, torture and witness protection. We have also been campaigning for the establishment of
the Truth and Reconciliation Commission
,
Disappearance Commission
and
the Ratification of various international treaties safeguarding the rights of people
. Recently, we have started
Advocacy on Vetting.
As a part of
International Advocacy/Lobby
, AF has been making regular submissions to UN Mechanisms and presentations in different international fora. Recent AF Campaigns include:
« Back to overview