Related Links
Case Updates
Close Encounters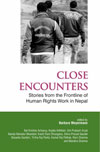 Who are we?
Advocacy Forum (AF) is a leading non-profit, non-governmental organization working to promote the rule of law and uphold international human rights standards in Nepal.  Since its establishment in 2001, AF has been at the forefront of human rights advocacy and actively confronting the deeply entrenched culture of impunity in Nepal.
AF's contribution in the human rights advocacy in Nepal has been recognized by Human Rights Watch (HRW) in terms of
"One of Asia's most respected and effective human Rights Organization"
. AF is a recipient of a number of awards including
"Women In Leadership Award"
(conferred by Swiss Agency for Development and Cooperation)
Strategic Framework of the Organization


Vision
To establish a just Nepali society with effective mechanisms ensuring fair and accessible justice to all
Mission

AF's mission is to combat the culture of impunity by promoting the rule of law. AF seeks to achieve this mission through a number of activities, including capacity development of the victims themselves, legal aid and high level policy advocacy aimed to create effective institutions and legal and policy frameworks necessary for fair and effective delivery of justice.
Goal
Redress injustice and promote accountability for human rights violations
Objectives
To provide legal aid to the victims of human rights violations, including children suffering from impacts of armed conflict, and juveniles in detention center
To undertake systematic monitoring and documentation of human rights violations
To promote comprehensive transitional justice mechanisms
To advocate for the reforms of legislations,
To combat impunity
To work to prevent torture
Core Values

The following are the core values that underlie each activity that AF undertakes in pursuit of its mission:
Combat impunity respect accountability
Stand for protection, promotion of the rule of law and respect for human rights
Committed to the cause of our existence, accountable for our action,
Empower victims so that they are able to articulate and claim their rights as active subjects, and not as passive recipients
Respect and promote professionalism
Maintain confidentiality when publicity may negatively affect the victims