Related Links
Case Updates
Close Encounters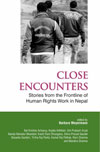 Nijamiddin Sekh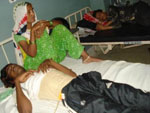 Details:
According to Victim Nijammudin:
At around 8.30 am on 21 July 2011 [2068/04/05] he went out to bring woods for construction work. When he reached in front of Nepalgunj Nursing Home a police van came to him and arrested him for an inquiry. When tried to inform his father about his arrest a policeman snatched his mobile phone. Then he was taken to DPO, Banke in the same police van. Some policemen took him to a room on the top floor of DPO, Banke and said, "If you accept that you are involved in abduction case, we will release you immediately." When he denied accepting the chage and tried to come out of the room, Ashok Yadav (victim knew his name later) reportedly kicked once with  police boot on his face. They allegedly handcuffed his hands on his back and blindfolded him with a piece of cloth. Then the policemen went out leaving him alone in the room. He was kept there without giving him food and water for the whole day. He heard voices, vehicle sounds and horn of vehicles for whole day that gradually faded out. Then he guessed that the night was falling down gradually.
In the night there came 4, 5 policemen and asked him to admit that he has been involved in a kidnap case and assured him that if he admits it he will be released. When the victim denied agreeing the terms and conditions of the policemen they took him to a place where he could be laid down and reportedly started beating him with their sticks, punched with fists and kicked with police boots. They reportedly tortured him for about one hour by asking about an abduction case. For a while he was left alone. After a while 4, 5 policemen came to him. The detainee asked them to allow him to go to toilet but the policemen swore on him by verbally abusing him. The policemen allegedly took blindfolded and handcuffed Nijamuddhin somewhere, picked up and kept him on something and reportedly pushed him from his back. When he came round he found himself on a hospital bed. He complained that he was not able to move his body and whole body was aching. He requested the policemen to call his family members but they reportedly didn't pay heed to his request.  His X-ray and video x-ray were taken. Then he was made to sleep on a seat in a police van and taken somewhere. He was kept in the van outside the house a big house. After a while a policeman came with some papers and took his thumb stamps on the papers without his consent. He was feeling uneasy. When he came round he found himself on a hospital bed. He said, "Till the date I don't know on which abduction case they have arrested me. They have not given me arrest warrant and detention letter too."
According to Satar Sekh, victim's father: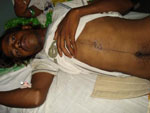 At around 8.45 am on 21 July 2011 he got a call from his son saying that he was being taken somewhere. Before he could complete the sentence the phone was cut. Later when he tried to call his son back but his phone was switched off. He got worried; he thought that his son must have got into some accident and rushed to Bheri Zonal Hospital and Nepaljung Nursing Home but he did not find his son there. Later in the evening he heard from some of the people that the police had arrested five to six boys from the surrounding of Nepaljung. He thought that his son might have also been arrested by policemen. So the following day his eldest son visited to DPO, Banke with lunch for his brother if he was arrested and detained there. When he didn't fine Nijamuddin there he visited to Ward Police Office, Nepaljung, Banke but there too he didn't find his brother Nijamuddin. Then he returned back to his house.
On the fourth day when was in tea shop in Nepalgunj he overheard some people talking about a Muslim boy whose backbone was broken and was brought to a hospital by police. He feared if it was his son. He visited to Kohalpur Medical Collage. He found that it was no one else but his own missing son. He tried to talk to his son but the policeman standing next to his son stopped him. Later he talked to his son who told him slowly what had actually happened to him. After hearing to his son he immediately went to NHRC, Nepaljung and filed a complaint.
According to SP Dinesh Amatya, DPO, Banke:
When asked about the torture on Nijamuddin, the allegation that he was pushed from a high place that broke his backbone, swelling on the lover lip, the blue marks on victim's body, the reason behind registering victim with fake in hospital record book (Hospital record says that he was registered as Rahish Khaa and discharged as Rajesh Khaa), and allegation of physical torture by police at night in DPO, Banke, SP Dinesh Amatya denied torture on victim saying that his backbone was broken by falling while he was trying to escape from police.
According to SP Amatya Nijamuddin was arrested from Jamunaha Area, near Indian border when he was heading towards India with two abductees. He further said that two other members of his gang escaped police arrest. SP Amatya said, "The detainee himself gave fake name at hospital. Later police got his real name from his mobile phone. He is a chain smoker and drunkard. That is the main cause of his health problem. He will recover soon." In my 21 year of service in police institute I have not found any detainee who has accepted that s/he is a criminal."
SP Amatya further said, "There is a difference between being injured and being beaten up." During the interview he frequently denied of police torture on Nijamuddin but the victim has claimed that he was inhumanly beaten by police and pushed from a high place. He fears police reprisal if he is taken to police station again.
Effects of torture: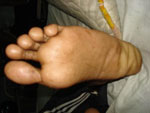 According to the doctor one of the lumber vertebras is broken. There is a blue and red  mark on his left sole. Hiw lower lip is swollen. He cannot get and sit by himself. There are starches on his chest. He is supported by a belt. Doctor has said that it will take a long time to recover his injuries.
Legal Proceedings:
On 22 July 2011 (2068/4/6) he was remanded for the first time for five days with an effect from the previous day and for second time he was remanded on 26 July 2011 (2068/4/10) for ten days. On 28 July 2011 (2068/4/12) his farther filed an application for physical and mental checkup of the victim under the Torture Compensation Act- 2053, Section 5, Sub section 3 and the same day District Court Registrar Dilli Ratna Shrestha wrote a letter in the name of DPO, Banke to provide medical checkup to the victim within 3 days and include the medical report in the case document.
« Back to overview