Related Links
Case Updates
Close Encounters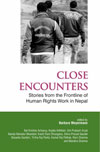 Bharat Sharma
Case Details:
According to victim's wife: The incident took place on Tuesday, 9 August 2011 [Shrawan 24, 2068], Tahachal. In the rented house where we live, we live on the ground floor and they (Dhan Bahadur Magar) live on the upper floor. On Tuesday, we were sitting downstairs. My daughter is 13 years old. She lives in Budhanilkantha, Naranthan. We (mummy, my daughter and myself) were about to leave for Budhanilkantha, Narayansthan to drop my daughter. Dhan Bahadur's youngest daughter said, "Look Auntie, there was theft in our house." We said, "Oh really! That was bad." She said, "Someone has stolen a gold ring and broken a piggy bank (bhudko) from our room." We said, "Is it!" The time for the theft was supposed to be 2:45. My husband Bharat Sharma had gone to work at 10 in the morning and had returned at 2 in the afternoon for lunch. He went out after his lunch. When we were about to go out, a police van came there. Dhan Bahadur and his wife were in the van. The police came inside the house and we went out. We left the house for Budhanilkantha. Three of us came to Jamal. Latter it came to know that the police entered the house but reportedly returned without entering our room. They accused my husband of stealing a tola and a quarter of gold and some money from the child's piggy bank. The allegation is that they suspected because we had gone out while the police came to our house.
The following day, i.e. 10 August 2011, the police arrested all the Madheshis workers working in the furniture in the front of our rented house and took them to APO, chagal where they were inquired about the theft case for some time and released.  The same day at around at around 2:45 pm my husband reported to APO, Chagal but he was returned at around 6 pm saying that all other tenants were not present there to continue inquiry.
On 11 August 2011, Dhan Bahadur's family members said that they had suspected on their relatives who know them well. But 12 August 2011, after returning from a forecaster (clairvoyant) who had reportedly forecasted that five people including two women had robbed their apartment, they began to suspect and blame us. From that day they started to curse like 'May thief die, meet an accident etc' as soon as they saw us. It was difficult for us to tolerate their behavior and an unidentified Muslim man who shared the flat with Dhan Bahadur told us that such behavior should not be tolerated.
The following day (13 August 2011) we (six of us including my mom and my husband Bharat Sharma) visited to Dhan Bahadur because we thought that we needed to be clear on that matter. We asked reason of suspecting on us and cursing us every day. The Muslim too suggested that such baseless allegations should not be made on us. In response to his comment Dhan Bahadur's wife said pointing on us, "Look, the thief is speaking loud." Then I said to her, "You have two daughters. So, don't blame others." There was a lot of discussion and at the end Dhan Bahadur's wife said, "My brother will come and then we shall do whatever needs to be done." Then the discussion ended for the day.  Later, I came to know that Dhan Bahadur's wife had reported the police saying that we were shifting the room soon.
At around 9:30 am on 21 August 2011 an unidentified policeman in civilian dress, who claimed to be originally from Biratnagar, two brother-in-laws of Dhan Bahadur and Dhan Bahadur himself took us to the police station on foot.  My husband was taken to APO, Chagal. Later I came to know that he was torture by police in the police station. Torture Details:
According to victim Bharat Sharma:At around 9:40 am in Tahachal Police Office, two unidentified policemen started to beat me asking about the stolen gold and money.  In the beginning, they kept me in a bed room at the back of the Police Office. There were 5/7 unidentified police personnel in police uniform. Two of them said, "No matter if you have stolen or not stolen, you are trapped now. You have to make promise that you will pay back or bring back the stolen gold and money." I said, "I don't know about the theft.  I am innocent. You rather kill me."  An unidentified policeman said, "You speak too much, don't you?" and started to beat me. After that, they handcuffed me and continued to beat me. The torture and inquiry continued from 10 am to 1:00 pm. Three unidentified policemen whom who I can recognize/identify if I see them again beat me with about three feet long cane stick. They inserted a stick through the elbows of my handcuffed hands and bended knees and beat on the soles of my feet. They propped my feet and beat on the soles of feet more than 60, 65 times. Then they lifted me up, made me to hold my ears and do a hundred sit downs and stand ups. After that, they said, "If you do a hundred more sit downs and stand ups, you shall be left alone. When I completed a 110 sit downs and stand ups, it was difficult for me to continue. Then one police officer said to me, "Listen, you tell us and show the stolen gold and money. You don't need to go. We will bring the goods." I said, "I don't know about it. I am innocent." He slapped me twice on my cheeks and a little while the policeman beat me on my hips with a cane stick for about 20-30 times and asked me to tell him where I had hidden the stolen gold and money. He said to me, "If you don't accept the allegation, we will apply electric shocks on you. After that, he laid two sticks on the floor and made me do sit downs and stand ups for 35 times by catching my ears. Then there came another policeman, took the handcuffs off and took me out. Three policemen had continuously tortured me till 1 pm. When I screamed, they said, "Why do you scream? If you make sound we will apply electric shocks on you." After that, I did not scream. As soon as I screamed, I was hit hard with sticks. At around 2 pm, I was put on a police van and taken to Area Police Station, Bhagwanpau in Swayambhu. At the police office I was taken to an inside room where an unidentified policeman in civil dress said to me, "You confess that you are a thief." But I refused saying I was innocent. My landlord was also there. When they went out, I too went out of the room with them. The policeman separately talked with my landlord for about 15/20 minutes in the office premise. After that the policeman called me inside the room. He began to inquire me again and I pleaded my innocence. The police took a stick and made me lie down on the floor. There were 3 /4 other policemen too. The civil dressed policeman did not beat me but others beat me with sticks. They made me lie face down on the floor and my feet were rested on the window panel and beat on my back. They told me to strength my body and beat on my back. If I loosened a bit, they used to beat me again. They beat me for about 15 minutes but I don't know how many times they beat on my back. I was almost unconscious. The civil dressed policeman asked me where I had hidden the stolen gold and money. I said, "I am not a thief. Instead I will help the police in the investigation. We should search the stolen gold and money together." In APO, Chagal one policeman stepped on my chest for about 3, 4 minutes by forcing me to lie down on the floor. When a policeman slapped on my face my mouth was bleeding.
Due to the police torture my feet are swollen. My shin, leg and chest really hurt badly. I visited to hospital on 22 August and 25 August 2011. The doctor has asked me to come for the follow-up checkup after three weeks. I am taking medicines. Police has kept me in due dates but I am afraid to go to the police office.
Effects of torture:
According to family members: He wakes up with jerks in the midnight; he just stands up and starts walking. He eats very few. He sleeps all the time. Recently Dhan Bahadur's wife whose gold and piggy bank was stolen has threatened him saying she knows what to do with him if the stolen gold and money is not returned to her.
« Back to overview