Related Links
Case Updates
Close Encounters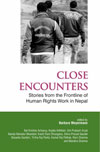 First Information Report (FIR)
Extrajudicial killing
On May 30, 2002, two soldiers shot Bhauna Tharu dead at his home on the charge of being a Maoist.

» updates
Extrajudicial killings
On August 17, 2004 soldiers picked up two brothers, Nar Bahadur and Ratan Bahadur, from their house, and, allegedly later shot them dead, not far from their home. Two of the soldiers took Ratan's wife to a nearby cowshed and raped her repeatedly. They also detained another brother, Man Bahadur Budhamagar, keeping him in illegal custody and torturing him for 17 days until he signed a statement saying that the soldiers did not rape his sister-in-law.

» updates
Extrajudicial killing
On February 12, 2005, security forces killed Jaya Lal Dhami. Villagers later reported that soldiers marched Jaya Lal and three others to the scene and executed them. Jaya Lal's uncle contacted the Bhagatpur army barracks, who told him that Jaya Lal had been "accidentally" killed in a confrontation with alleged terrorists.

» updates
Extrajudicial execution
Soldiers arrested 15-year-old Sarala Sapkota on July 15, 2004 from her grandfather's house. However, when her relatives went to Baireni Barracks and the Dhading DPO, the officers denied that the arrest had taken place. On January 11, 2006, an NHRC team exhumed her remains near her village.

» updates
Enforced disappearances
These five students were among 11 people arrested by the security forces on October 8, 2003. They were taken to the Regional Police Office in Janakpur. The next day, their families complained to the NHRC, which initiated an investigation. Two years later, the NHRC received a letter from the Nepal Army Human Rights Cell stating that the five men had been killed in a "police operation."

» updates
Enforced disappearances and extrajudicial killings
Security forces arrested Ram Chandra Lal Karna and Manoj Kumar Dutta on October 12, 2003, and beat Manoj severely. Both were taken to the Dhanusha DPO. Relatives went to several police stations and organizations but did not receive responses to their complaints. On June 7, 2005, the Human Rights Cell of the Nepal Army informed the NHRC that the two men had been killed in an "armed encounter".  In January 2008, the Dhanusha DPO informed Advocacy Forum that it would not act on any conflict-related FIRs.

» updates
Extrajudicial killings
On October 1, 2004, security personnel arrested these five men from their homes. According to eyewitnesses, they were first beaten and later, around 5 a.m., security forces shot and killed them. People dressed in civilian clothing but claiming to be security forces later informed the families that the men had been killed because of false information identifying them as Maoists.

» updates
Extrajudicial killing
On July 3, 2005, Security forces arrested Ramadevi Adhikari and her husband at their home, Later, Ramadevi was shot and killed. The security forces did not allow the body to be sent for an autopsy.

» updates
Extrajudicial killing
On December 27, 2003, police arrested Hari Prasad at a bus stop. When his father went to the DPO to complain, the police denied having arrested him. After searching for months, his father complained to the NHRC. According to the NHRC's findings, Hari Prasad had been killed. The investigation led to the exhumation of Hari Prasad's body, and a post-mortem revealed the cause of death to be "gunfire injury to the pelvis."

» updates
Extrajudicial killing (after rape)
On February 12, 2004, armed soldiers raped and killed 18-year-old Reena Rasaili at her family's home .The family heard three gunshots and found her body lying near the house with bullet injuries in the head, eye, and chest.

» updates