Related Links
Case Updates
Close Encounters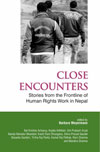 Reena Rasaili
There was no investigation after registering the FIR.

On December 14, 2009, the Supreme Court issued an order to the DPO, Kavre and the public prosecutor to proceed with investigations.

The Supreme Court also formally criticized the Police Headquarters, the mid-regional police office and to the zonal police office, Bagmati to become serious and proactive and alert to take necessary and appropriate steps as they have continuously shown indifference to fulfilling their duty to investigate.

Likewise, it formally criticized the Attorney General's Office to direct the district attorney to take prompt, appropriate and substantial steps. The court also ordered the district attorney should be directed to play a coordinating role with the police personnel.

Statements of the complainant and four other witnesses were recorded by the DPO Kavre on April 21, 2010. On June 4, 2010, the DPO Kavre sent a letter to Police Station Dhorpatan, Kaski to locate and arrest former soldier (who deserted) Kaji Karki and hand him over to the Kavre police if he is found.

On June 13, 2010, DPO Kaski sent a similar letter to police station Dhorpatan.

On September 13, 2010, at DPO, Kavre, three witnesses provided statements about the incident. This was done in the presence of Karna Bahadur Rasaili (Reena's father) and Devi Sunuwar.

« Back to overview