Related Links
Case Updates
Close Encounters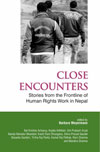 Ujjan Kumar Shrestha
Okhaldhunga District court on 10 May 2004 convicted Balkrishna Dhungel as the murderer and sentenced him to life imprisonment and confiscation of property. Challenging this decision, Dhungel filed an appeal at Rajbiraj Appellate Court. The court on 25 June 2006 repealed the decision of the district court and exonerating Dhungel from the crime released him from the prison. Ujjan's family filed an appeal at the Supreme Court against the decision of Appellate Court. The Supreme Court on 3 January 2010 upheld the decision of the district court and convicted Dhungel for the murder and asked the police to arrest him and make him serve the remaining time in prison. After the police failed to arrest and incarcerate Dhungel and the government attempted to grant amnesty to Dhungel, victim's family filed a writ requesting stay order on refraining pardon to Dhungel. The Court on 21 June 2011 clarified that there was no legal obstacle to incarcerate Dhungel.

In the early morning at around 4 a.m. on June 24, 1998, Ujjan Kumar Shrestha left his home to go to Ramechhap in order to buy some goods. Then, he never made it back. While he was walking through Khahare Dobhar which is at Tarkerabari Ward No. 7, Okhaldhunga, suddenly Balkrishna Dhungel, Pushkar Gautam, Thal Bahadur Poudel, Dor Bahadur Poudel, Ram Bahadur Shrestha, Thir Bahadur Khatri and Parbat Raj Bhattarai appeared in front of him. They encircled Ujjan Kumar and took him to a watercourse near that village. Dhungel shot him dead and dragged him to Likhu River and the corpse was thrown in the river with the help of Pushkar Gautam. According to Ujjan's elder brother, Ganesh Kumar Shrestha, Ujjan was repeatedly threatened to death by those people mentioned above during the meetings.

While documenting the scene of crime, policemen from Area Police Office, Khiji Falante, Okhaldhunga, found blood stains everywhere at the incident place. They even found small bushes and weeds crushed in the maize field, rice plants macerated and blood marks on the stones at the bank of the river. One torch light was found there, and there was a big mark of blood on the other side of the river. Considering the scene of crime, it is believed that Ujjan was murdered after a preplanned plot and thrown to Likhu River.



Background of the incident:


All evidences reveal that there were two personal causes to murder Ujjan inhumanly though he was innocent. According to the first cause, Bimala Khadka, a neighbor-sister of Ujjan, conceived a child by her own maternal uncle named Thal Bahadur Poudel to which Bimala and Thal Bahadur both confessed later at the Area Police Office. But Ujjan was accused to make Bimala pregnant which became one of the true causes for his murder as the rift between Thal Bahadur and Ujjan kept increasing on that issue. Ujjan Kumar was went on refusing the blame and got to know the secrecy between Bimala Kadka and Thal Bahadur Poudel. He, then, made all the secrets public and helped the police arrest Thal Bahadur Poudel on the same day when Thal Bahadur had killed that newly born child on its very birth day in the dawn to conceal the case. From this incident, Ujjan had become an eyesore for Thal Bahadur Poudel and he was seeking retaliation. Another bone of contention was that, Ujjan Kumar had married Renuka Poudel, who is the own sister of Thal Bahadur Poudel and Dor Bahadur Poudel and a relative of Balkrishna Dhungel as well. Ujjan Kumar and Renuka Poudel had had an inter-castel marriage and all relatives of Renuka were angry at it. Thal Bahadur, Dor Bahadur, Balkrishna Dhungel and other people had been planning to kill Ujjan Kumar for all this. In unison, it was reported that Ujjan Kumar used to receive frequent threats to life by those people who were said to have been conspiring against him.

One of the accused Balkrishna Dhungel maintains that Ujjan was killed because he was a spy who connived against the Maoist Party.

Due to the case of Ujjan, victim's family has been receiving repeated threats and to atrocities. Ganesh Kumar Shrestha, the elder brother of Ujjan Kumar filed an FIR against Dhungel et al. and for this "transgression" they murdered him as well. Not only this, Ganesh Kumar's daughter Rachana Shrestha had unknowingly shown the murderers the location of her father and saw her father's murder from a close distance. She could not bear the guilt and pain and committed suicide. The family suffers till date because of sheer injustice to them.

« Back to overview