Related Links
Case Updates
Close Encounters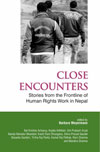 Maina Sunuwar
Yes (after a Supreme Court order)
Between March and July 2008, subpoenas were served on the defendants' addresses requiring them to appear in court. In February 2009, the court re-issued the subpoena to Niranjan Basnet which was duly served on April 27, 2009.

On September 13, 2009, the District Court ordered the NA Headquarters to immediately proceed with the automatic suspension of Major Niranjan Basnet and for all the files containing the statements of the people interviewed by the Military Court of Inquiry to be produced.
The army provided a copy of the judgement, and copies of statements given by four accused to the court-martial to the Kavre District Court. However, none of the other 34 documents listed in the Court Martial judgement have been provided.

On November 17, 2009, examination of 7 witnesses took place at the Kavre District Court. (All of them, including Devi Sunuwar (Maina's mother), testified to what was written in their statements.
One of the accused, Captain Niranjan Basnet, was repatriated from UN peacekeeping duties in Chad. The Prime Minister on December 13, 2009 directed the NA to produce Major Basnet in the court but the NA did not follow this order. The military police picked up Basnet from the airport and took him to army headquarters.

On August 20, 2010, Kavre District Court sent an order letter to Dolakha District Court to seize the property of Niranjan Basnet.

In response to a similar letter relating to the property of Amit Pun, the Kavre District Court received a letter from Rupandehi District Court saying that there is no person called Amit Pun and there is no property in the name of a person by that name at Anandban VDC-9, Rupandehi district.

Kavre District Court sent a letter to Nepal Army Court Martial Department
asking the latter to send photocopies of the statements of Bobby Khatri, Niranjan Basnet, Amit Pun and Sunil Prasad Adhikari to General Military Court within 7 days.

Kavre District Court sent a letter to Kathmandu District Court on 29 July 2010 asking the latter to seize the property of Bobby Khatri and Sunil Prasad Adhikari and send the information regarding it.

« Back to overview