Related Links
Case Updates
Close Encounters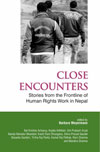 Keshar Bahadur Basnet
There was no investigation even after registering the FIR.
On June 18, 2009, the victim's family filed a writ petition at the Appellate Court, Nepalgunj.

On November 18, 2009, the Appellate Court Nepalgunj issued a mandamus order to police and other authorities to promptly proceed with the investigation.

But there has been no progress. Informally, police officers have informed the relatives that the police headquarter has told them that this and other similar cases had not proceeded as they would come under the purview of the TRC.

After the date to appeal by the respondent expired, the plaintiff had applied to the DPO, Bardiya on June 26 2010 requesting to proceed with the investigation in view of the court order. A copy of the order was attached with the application. However, there has been no progress in the investigation into the case.

On October 5, 2010, Police Inspector Basudev Khatiwada, the investigating officer at DPO Bardiya, said that the army does not respond to their letters and that police are consulting the district attorney in the case. There has been no progress till date.

« Back to overview