Related Links
Case Updates
Close Encounters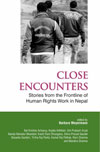 Dhaniram Chaudhari and Jorilal Chaudhari
Dhaniram Chaudhari and Jorilal Chaudhari
There was no investigation even after registering the FIR.
On June 18, 2009 the family filed a writ petition at the Appellate Court, Nepalgunj.
On January 13, 2010, the Nepalgunj Appellate Court ordered the authorities to proceed with the investigations.
Advocacy Forum has repeatedly urged the authorities to implement the court order. In response, the police and public prosecutor maintain that the army does not respond to their letters.

« Back to overview