Related Links
Case Updates
Close Encounters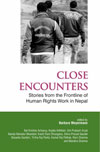 Ganga Gauchan and Pahalbir BK (alias Pahal Singh)
Ganga Gauchan and Pahalbir BK (alias Pahal Singh)
Developments in 2008 - 2009
There was no investigation even after registering the FIR.
On June 18, 2009 the families filed separate petitions of mandamus at the Appellate Court, Baglung.
On November 11, 2009, the Appellate Court, Baglung issued identical orders for police to initiate investigations without delay.
Despite this order, Advocacy Forum lawyers have not been able to find any evidence of progress in police files.

« Back to overview