Related Links
Case Updates
Close Encounters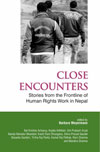 Commemoration of the 19th Killing Anniversary of Maina Sunuwar and Reena Rasaili: When will the wait for truth and justice be over?
Facilitating the program, Advocate Sushila Chaudhary, General Secretary of Conflict Victims' Women National Network (CVWN) briefed about the cases of both Reena and Maina, along with the long legal battle the family has been through for truth and justice. Likewise, Geeta Rasaili, younger sister of Reena Rasaili recited a heartfelt poem depicting what her sisters had to go through at the hands of the then Royal Nepal Army and expressed her commitment that the family will continue the fight for their justice.
Following the garland offering ceremony and paying silent tribute to the victims, Devi Sunuwar, mother of Maina Sunuwar, read out the open letter she had written to Prime Minister Pushpa Kamal Dahal, demanding the implementation of the Court orders and ensuring the protection of the victim's right to justice over the interests of the perpetrators.
Pledging solidarity with the family members of Maina and Reena, victim leaders and activists Suman Adhikari and Dr. Ram Kumar Bhandari expressed the need for unity and common understanding among the victims in relation to the conflict-related cases for a victim victim-centric and transparent transitional justice process in Nepal.
Speaking in the program, Murari Prasad Kharel, Acting Secretary of the National Human Rights Commission (NHRC) and Maina Karki, member of the Federal Parliament expressed their commitment to work for the justice of Maina and Reena, along with other conflict victims.
Karki, who had lost her husband during the armed conflict was also felicitated in the program for her appointment as a member of the Federal Parliament.
Sharing the words of encouragement, Dr. Mandira Sharma, Founder of Advocacy Forum-Nepal (AF), stated that we have come a long way in this journey to justice and we still have a long way to go. Likewise, she admired the determination of the family and expressed that with unity and resilience, justice will be served.
Concluding the event, Devi Sunuwar thanked all the participants for their continuous support and shared that they have not and will not give up on this fight for truth and justice for Maina, Reena, and all other innocent victims who lost their life during the armed conflict.
AF provided technical and financial support in organizing the event. Likewise, AF has been providing legal support since the beginning of the case.
« Back to overview