Related Links
Case Updates
Close Encounters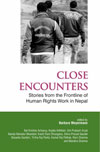 Banke District Court's First Landmark Judgment against Hospital Negligence upholds Consumer Rights
Shrestha was taken to the Emergency ward after having a high fever, where he did not receive proper treatment and care from the medical staff. He lost his life at the hands of inexperienced medical students at the hospital. In 2020, Namrata Shrestha, wife of the deceased, filed a case demanding compensation under the Consumer Protection Act.
AF's Lawyer Basanta Gautam, who provided legal assistance in the case, informed that the single bench of Judge Bidur Kafle ruled that the negligence of Nepalgunj Medical Teaching Hospital during the treatment resulted in the death of Manital Shreshta and ordered compensation from the defendant Nepalgunj Medical Teaching Hospital, Nepalgunj.
AF provided legal assistance to the case.
« Back to overview