Related Links
Case Updates
Close Encounters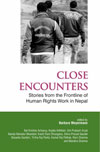 Tulsipur High Court orders to Register FIR in Conflict-Related Cases of Enforced Disappearances
In the order, the Court ordered the DPO, Banke to i) register the FIR that the complainant has brought following the due process of law, ii) further the investigation as per the prescribed law, iii) submit the progress report of the investigation to the Provincial Office of Chief Attorney in every three months, and lastly iv. to register the FIR and carry out investigations in other cases of similar nature and context.
Earlier on 20 April 2022, the High Court had issued a similar directive against the DPO, Bardiya in the two writ petitions filed by Devisara Oli, Padam Tharu, and Garibuwa Tharu. Even though the full text of the decision of all the orders is yet to come, Advocacy Forum-Nepal (AF) applauds the decision as such directives have set a precedent for other enforced disappearances cases.
Responding to the order of Mandamus, AF lawyer Basanta Gautam shared that the conflict victims who have been waiting for years to know the truth about their loved ones will now have hope of justice. Advocate Gautam on behalf of AF, along with other human rights lawyers had pleaded in the Court.
AF, in technical support of the International Commissions of Jurists (ICJ) had attempted to register FIRs in the cases of enforced disappearances in several DPOs throughout the country. Upon denial by police to register the FIRs, AF assisted the family members in filing writ petitions at the High Courts. Other cases are sub-judice at present.
« Back to overview