Related Links
Case Updates
Close Encounters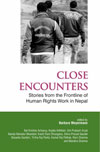 Advocacy Forum honored by FNJ Dailekh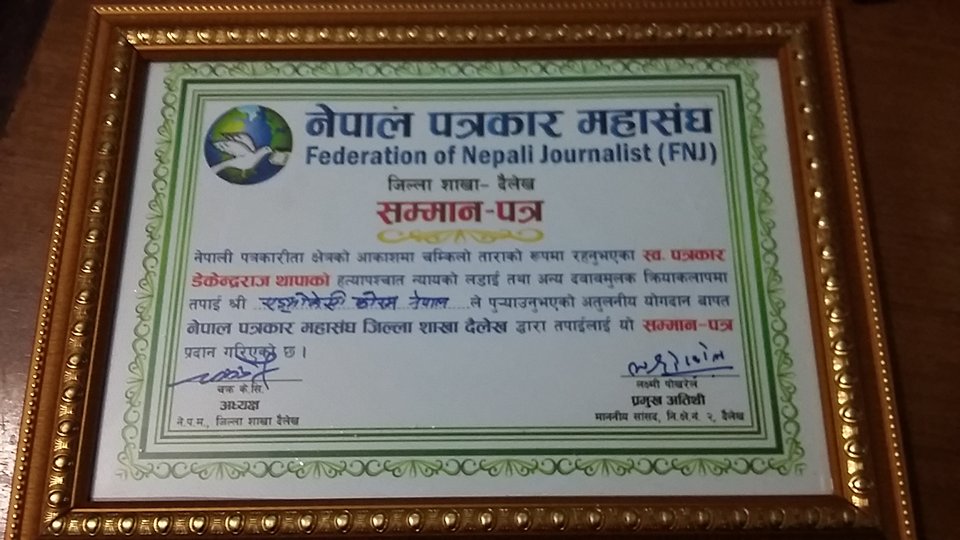 Nepalgunj, 25th August 2017: On the occasion of the 13th death anniversary of journalist DekendraThapa,the Dailekh Chapter of Federation of Nepalese Journalists honored Advocacy Forum (AF) for providing legal support and doing advocacy at national and international level to provide justice to the victim Dekendra Thapa and his family. In the program, the honor certificate was jointly handed over to AF's Regional Coordinator Basant Gautam by Members of Parliament Laxmi Prasad Pokharel and Ammar Bahadur Thapa and FNA Dailekh President Chakra K.C.
In the program, the victim's family members, Chief District Officer, political leaders, journalists and civil society members were present. In the memory of Dekendra Thapa a chowk (intersection) was named after him.
On 26 June 2004 [2061/03/12] journalist DekendraThapa was abducted from his homeby the then Maoists rebels. They took him to different parts of Dailekh district before killing him by inflicting severe torture on him on 11th August 2004 [2061/04/27] in Dwari VDC of Dailekh district. After his murder, the Maoist party issued a statement and claimed that he was killed for spying against them and entering a Maoist base area without taking permission. His family members received his dead body only on 25th June 2008 after the National Human Rights Commission exhumed it. Laxmi Thapa, wife of late Dekendra Thapa said, "After the Dailekh District Court sentenced to 1 to 3 years' imprisonment to five Maoists cadres involved in the murder of my husband, it had given hope for justice to the conflict victims. However, the main perpetrators Bom Bahadur Khadka, Mukti alias Bom Bahadur Khadka, Keshav Khadka and Bhaktiram Lamichhane were not arrested and prosecuted due to political protection. So, we demand immediate arrest and prosecution on them and provide justice to us."
« Back to overview