Related Links
Case Updates
Close Encounters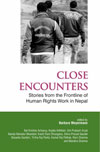 The District Court Kavrepalanchowk Convicts Three out of Four Army Officers Accused of Maina's Murder
Kathmandu: Today, after 13 years of legal battle, the District Court of Kavrepalanchok has convicted perpetrators involved in Maina's murder.
(For more detail of the case see, Maina Sunuwar: Separating Facts from Fiction, http://advocacyforum.org/downloads/pdf/publications/maina-english.pdf.)
The court has acquitted one of them, who is still serving the army.
Issuing the verdict yesterday evening, the District Court, Kavre convicted Army Officers Babi Khatri, Amit Pun and Sunil Prasad Adhikari and sentenced them to 20 years' imprisonment for murder. Major Niranjan Basnet was acquitted. None of the officers were present in the Court, and it remains to be seen whether they will be arrested and forced to serve their sentence.
For more details:/press-statement/2017/MainaPressRelease-ENG1.pdf
« Back to overview