Related Links
Case Updates
Close Encounters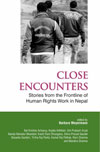 Court Confirms Army Lieutenant being Involved in Torture and Orders Action against the accused and Compensation to Survivor
In the morning of 2 October 2011, Padam Bahadur Khadka including other 6 juveniles were arrested by army men deployed from Banjariya Check post under Narsingha Gan of Nepal Army on the allegation of killing a Chittal (spotted deer). According to the victims, they were then taken to the army post, where Post Head, Second Lieutenant Kavindra Thapa threatened and verbally abused them for poaching spotted deer while soldier Man Bahadur Khadka tortured them by beating with sticks, punching with fists, keeping them in abnormal position for long period of time, forcing to stand upside down on their hands against a tree and beating indiscriminately on different parts of the body.
Advocacy Forum-Nepal investigated the case, assisted them for their medical treatment and filing the case under the Torture Compensation Act of Nepal. Earlier, the Bardiya District Court had quashed the case referring that the case falls under the jurisdiction of Court Martial. AF had assisted victims to challenge the decision of the District Court Bardiya in the Appellate Court Nepalgunj. On 24 March 2013, Appellate Court, Nepalgunj had quashed the decision of District Court Bardiya referring the case to Court Martial.
After court decision Padam responded, "With the court decision I felt that I have got justice, though partially. I am eagerly awaiting it to translate into practice. I have spent large amount of money for my treatment in hospitals from Bardiya to Nepalgunj to Kathmandu. On several occasions, I was threatened by the perpetrators and I was displaced from my original place. I even had to file application at District Administration Office seeking security. As a result of torture and ill-treatment, I am still suffering from physical and mental problems."
Although Nepal is party to Convention Against Torture and Nepal's Constitution prohibits torture, in absence of enabling legislation criminalizing torture, there is no criminal accountability in the cases of torture. The only available remedy is the compensation and the departmental action under the Torture Compensation Act.
Advocacy Forum - Nepal
March 17, 2016
« Back to overview