Related Links
Case Updates
Close Encounters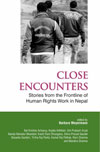 Appellate Court Ordered Full Compensation to a Torture Survivor
04 January 2015: For the first time Appellate Court, Patan has ordered full compensation for a torture survivor. Issuing an order on 31st December 2015, AC, Patan has said that torture survivor Tika Prasad Dahal is entitled for NPR 100,000/- for the torture he has suffered. The verdict came after 30 month long legal battle after an appeal was filed before AC, Patan in June 2013. However, as the individual perpetrator/s could not be identified, no departmental action was slapped against the perpetrators.
Initially, he had filed a petition before Kathmandu District Court in January 2009. However, in November 2012 the Court decided that the complainant has failed to provide sufficient evidences to prove torture on him.
Tika Dahal, 39 at the time of incident, an owner of Tophu Factory, was arrested by a team of policemen from Metropolitan Traffic Police Division (MTPD) at around 12 noon on 16 November 2008 from his residence in Sanepa Lalitpur suspecting his involvement in a racket of motorbike theft and sell. After his arrest he was taken to a room at MTPD where he was reportedly tortured by three plain clothed policemen for half an hour by repeatedly beating him with bamboo sticks and an iron chain on his hands, legs, back and other parts of body. During interrogation he was allegedly slapped and punched on his ears and head accusing him of stealing several motorbikes and selling them. After a break of about one hour two policemen arrived there and started beating him again with bamboo sticks, punch with fists and slapped on his ears and head. He said, "When I could not bear the pain of torture, I confessed the crime that I had not committed."
Due to his mental and physical illness still he is under medication and Advocacy Forum is providing him legal support and medical assistance.
« Back to overview