Related Links
Case Updates
Close Encounters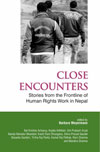 AF Organized Workshop for Lawyers
Kathmandu, 14 December 2015: Advocacy Forum (AF) organized a second round of national level workshop on national and international litigation for lawyers on 12 and 13 December in Dhulikhel, Kavre district for 22 lawyers from Kanchanpur, Banke, Rupandehi, Kaski, Dhanusha, Morang and Kathmandu. The two days training on "International Jurisprudence on Torture and Other Ill-treatment" was successfully completed.
In the two day workshop the issues like what amounts to torture and other ill-treatment; how can international law help in our domestic torture cases; burden and standard of proof and the exclusionary rule; strength and weaknesses of draft torture bill; and advocacy and litigation strategies to improve domestic law & practice were discussed by the national and international resource persons. Likewise, the participants were divided into groups and discussed on national and international jurisprudence on torture, and discussed on leading torture cases of Nepal and other countries.
The first round of national level training for lawyers on litigation was organized last year in December. The project is funded by European Commission and jointly implemented by Advocacy Forum and REDRESS Trust, UK based NGO.
« Back to overview