Related Links
Case Updates
Close Encounters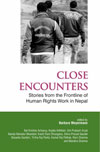 AF Organized Consultation Meetings on "Proposed anti-torture Bill and Victims' Concern"
Kathmandu, 06 December 2015: Advocacy Forum-Nepal (AF) organized consultation meetings on "Proposed anti-torture Bill and Victims' Concern" in November 2015 in Kathmandu, Kaski, Banke, Kanchanpur and Morang districts. In the meetings, a total of 215 participants including Judges, Public Prosecutors, Defence Lawyers, Police Officers and Medical Professionals were participated. In the program judges, registrars and senior lawyers were the resource persons.
The resource person of the meetings presented analytical work papers by comparing the proposed anti-torture bill pending before the parliament for endorsement with existing Compensation Relating to Torture Act, 2053, and various international treaties including United Nations Convention against Torture, 1984. The participants involved in in-depth discussions mainly on some behavioural and legal problems a torture victim could face if the proposed anti-torture bill is passed as it is. Similarly they discussed that the victim needs to file application before the court, court could order the same police administration to investigate the case, after the investigation of torture case public prosecutor will have one year long time to file the law suit, public prosecutor's discretionary power whether to file law suit or not, limitation of punishment on guilty officer could not provide justice to victims in some severe torture cases, no separate fund for compensation is established etc.
In the programme, all the stakeholders of the criminal justice system expressed their commitment to coordinate and cooperate to each other to uphold the rule of law and fair trial from their ends. The program was implemented by AF in coordination with REDRESS Trust and supported European Union.
« Back to overview