Related Links
Case Updates
Close Encounters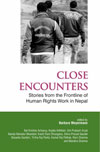 AF Provided Psycho-social Counseling for Earthquake Affected Children
Kathmandu: Advocacy Forum (AF) organized psychosocial counseling programs for earthquake victims of Khoplang VDC of Gorkha district and Khudi, Bhulbhule and Simpani VDCs of Lamjung district. The target groups of the program were students, teachers and community people. In the program, more than 100 participants were participated.
In the training the participants shared their experience of earthquake and aftermath. Psychosocial Counselors took various sessions on 'exercise of taking deep breath and muscle relaxation,' stress management, self-care, meditation exercise, drawing and painting, energizer games etc.
The participants shared that they had heard about the psychosocial counseling from radio but from this training they knew and learnt many things about psychosocial problems and its management. They said that after discussions about psychosocial problems, they came to know that they were also suffering from it and had affected to their personal, family and social life. But after this training they were happy that they knew how to manage such problems and work for reconstruction of their life, family and community. The project is supported by:DKA Austria.
« Back to overview