Related Links
Case Updates
Close Encounters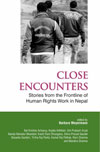 Nanda Prasad Adhikari breathes his last after 333 days' fast-unto-death for his son's justice
Nanda Prasad Adhikari, 56, a permanent resident of Phujel VDC-7, Gorkha, breathed his last yesterday while staging fast-unto-death waiting for justice for his younger son, Krishna Prasad Ahikari's murder. He passed away at the ICU of Bir Hospital at 5:15 pm. His body was taken to Teaching Hospital for post-mortem. Also, the wife of Nanda Prasad, Ganga Maya is in critical health condition.
The Adhikari couple started fast-unto-death when all legal paths to legal recourse seemed blocked that the couple came to the street seeking justice. Nanda Adhikari had to expel his life which was compounded by the successive government's indifference to the plight of the victims and their families. The death of Nanda Adhikari epitomizes the situation of victim families mired in despair, taking the means of Satyagraha. Nanda Prasad's efforts to hold those responsible only led him to death, making his struggle unfinished. His beloved son was killed brutally; there was no investigation despite all his efforts.
Nanda Prasad and his wife Ganga Maya had been staging hunger strike demanding justice for their son since January 2013 in Kathmandu. Nanda had initiated such relentless crusade for justice, as he did not see any progress in the investigation into the circumstances of his son's death nine years ago. He and his wife concentrated their silent protest outside the Baluwatar residence of the Prime Minister of Nepal. They had already been arrested several times by the police for doing so. Once, they were sent off to Gorkha, another time left stranded at Thankot, and another time left on the cemented ground before the Emergency Room at Bir Hospital. They were even forced to stay in the mental hospital for 35 days getting tag of mentally ill patient, during which time neither family members nor rights activists got easy access.
They first broke their hunger strike on 47th day, as the government assured them to provide with justice making an act of arrest of one of the alleged accused. But as the accused was released on a plain date, the Adhikari couple again resumed their strike and that ended Nanda's life on his 333th day of fast-unto-death.
The Krishna Adhikari and Nanda Adhikari's cases illustrate a situation of extensive form of impunity where the victims have to die at the cost of justice. But no authority is hearing on. Each of these institutions has been complicit in the politicization of crimes, which is evolving as a scourge affecting the entire society and polity.
It is not acceptable that the national polity as well as the international community stands as mute spectator when a couple goes through the Gandhian act of fasting and eventually one gets ended, making only a demand of the authorities- investigation and prosecutions in the murder of his son.
The state is wholly obliged to conduct prompt, fair and effective investigation into the case as it is bound by national and international laws. Moreover, rule of law gets jeopardized by this inaction if the state remains mum in issues of justice to conflict victims, and Nepal is being set up as a violator of international law by this lack of initiative.
Hence, Nanda Adhikari's 'unwanted' death is indicative to defeat and failure of not only the rule of law but also of the democratic values, as well as to further institutionalization of impunity.
And now lets save the life of Ganga Maya Adhikari who is now virtually on death bed!
« Back to overview