Related Links
Case Updates
Close Encounters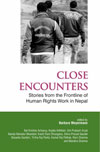 Two Accused of Dakendra Murder Case Released
After jail/bail hearing on 05 August 2012 [2069/04/21] the District Court, Dailekh had ordered to prosecute them by detaining in jail.

Against the decision of DC, Dailekth all the five accused had filed writs before the Appellate Court (AC), Surkhet on 02 April 2013 [2069/12/20] through District Jail, Dailekh. Accused Jay Bahadur Shahi and Harilal Pun had filed joint writ and other accused Bir Bahadur KC, Nirak Gharti Magar and Lachhiram Gharti Magar has also filed another joint writ.

Hearing on their writs, on 02 February 2014 [2070/10/19], a joint bench of honorable judges Deepak Raj Joshi and Kumar Pokhrel of AC, Surkhet upheld the decision of DC, Dailekh.

Against the decision of AC, Surkhet, the accused has filed a joint writ before the SC on 12 January 2013 [2070/09/28].

Meanwhile, the DC, Dailekh has issued an order to ban sell of the property of other accused Mukti alias Bam Bahadur Khadka, Bhaktiram Lamichhane, Arun alias Bam Bahadur khadka and Keshav Khadka who are at large. They had abscounded after DC, Dailekh issued an arrest warrant against them.

The District Court, Dailekh has set finale hearing date for 20 August 2014 [2071/05.04] in the case.
« Back to overview