Related Links
Case Updates
Close Encounters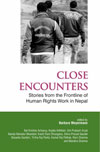 Murder Convict Cannot Contest CA Elections: SC
Earlier, Advocate Bishwa Prakash Bhandari had filed a writ petition at the SC arguing that the Clause 19(e) was in contravention with Article 65 of the Interim Constitution as it deprived an individual, whose offense did not involve moral turpitude, of becoming a candidate and seeking for the intervention of the court. A single bench of Justice Tarka Raj Bhatta had directed the government and the Election Commission not to implement the disqualification clause and summoned the authorities to participate in yesterday's hearing.

The special bench of Justices Girish Chandra Lal, Sushila Karki and Prakash Wasti found that the Clause in the Ordinance did not contradict existing laws and its provision relating to disqualification of a candidate did not harm any fundamental rights as the writ petition was filed as public interest litigation.

The court also held that the petitioners had not challenged the Ordinance but only Clause 19(e) of the Ordinance, which implied that they had accepted the Ordinance and hence the court intervention was not required.

Advocates Mukti Pradhan, Chandeshwar Shrestha, Ram Narayan Bidari, Ram Bahadur Thapa and Krishna Prasad Subedi pleaded on behalf of the petitioner while Deputy Attorney General Thok Prasad Shiwakoti, Sanjeev Raj Regmi and Chandra Kanta Khanal pleaded on behalf of the respondent Nepal Government.

« Back to overview