Related Links
Case Updates
Close Encounters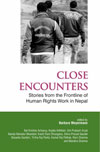 AF Organizes National Meeting on CAT Report
The aforesaid report is based on the findings of 6 year-long confidential inquiry on torture in Nepal and has been adopted by the Committee at its forty-sixth session (9 May – 3 June 2011).

In the first session of the meeting, Ms. Mandira Sharma, Chairperson of AF, presented the requirements of CAT, trends of reports of torture from 2001 to 2012, compliances of constitutional provisions, recommendations made by the UN Special Rapporteur on Torture in 2005, Nepal's obligations to end torture and Cruel, Inhuman and Degrading Treatment or Punishment and so on. After that the participants raised their concerns and discussed on the relevant issues.

In the second session, Mr. Hari Phuyal presented Committee against Torture's report of confidential inquiry on torture in Nepal and Nepal's responsibilities to address it. Participants discussed on the roles and responsibilities of the stakeholders of criminal justice system to prevent torture in Nepal.

Altogether 60 participants including representatives from the Office of the Prime Minister and Council of Ministers, the Office of the Attorney General, Nepal Bar Association, Nepal Police, defense lawyers, and human rights defenders attended the program.

« Back to overview