Related Links
Case Updates
Close Encounters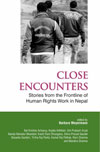 Torture Survivor Awarded with Compensation
Harkali Pun, 49, a resident of Motipur VDC-6, Bardiya district had accused the police of inflicting severe torture on her in custody at District Police Office (DPO), Banke. On 12 July 2011, the police had arrested Harkali near Nepal-India border in the accusation of being involved in human trafficking. With legal assistance from Advocacy Forum (AF), Harkali had filed a case under Torture Compensation Act-1996 against DPO, Banke, the then Police Superintendent Dinesh Amatya and Police Inspector Harka Bahadur Rawal, policewomen Rajani Malla and Bhagawati Subedi on 24 August 2011. On 15 August 2011, she had additionally filed a case of beating against the same respondents.

In her petition, torture survivor Harkali Pun had claimed that the police personnel had randomly beaten her up with a bamboo stick at different parts of her body for two hours and had forcibly asked her to confess to her crime. Her right arm was broken, three fingers of her left hand became crooked and the whole left part of her body sustained bruises due to the torture inflicted on her.

In its verdict, the single bench of Honorable District Justice Shekhar Prasad Poudel found that the police had indeed been involved in inflicting torture on the victim and directed to provide compensation to the victim for the physical and mental loss that she had to sustain. But the court failed to order departmental action against the perpetrators even if the petitioner had clearly pinpointed the names of the perpetrators. The court, however, quashed the petitioner's claim for proceeding with the case on beating. In addition to it, the court found Harkali being involved in human trafficking and awarded her six years of imprisonment for her offense.

AF had been providing legal and medical assistance to the victim.

« Back to overview