Related Links
Case Updates
Close Encounters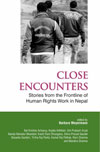 Court Awards Compensation to Torture Survivor
Nizamuddin Shekh, 22, a resident of Nepalganj Municipality-16, Banke District had accused the police of inflicting severe torture on him in detention at District Police Office, Banke. With Advocacy Forum's (AF) assistance, he had filed a case under Torture Compensation Act-1996 against DPO, Banke, the then Police Superintendent Dinesh Amatya and Policeman Ashok Yadav at Banke District Court on 6 September 2011. His lips were swollen, there were bruises and wounds in his chest, face and legs and one among the five backbones got cracked due to the torture inflicted by the policemen on him.

In its verdict, the single bench of Honorable District Justice Shekhar Prasad Poudel found that the police had indeed been involved in inflicting torture on the victim and directed to provide compensation to the victim for the physical and mental loss that he had to sustain. The verdict further read that the provision under Torture Compensation Act-1996 clearly directs the police to have physical and mental examination of the detainees done and to submit the examination report to the court but it has been seen that the police repeatedly fails to follow this direction, therefore, the court orders the District Police Office, Banke, to mandatorily carry out the examination and submit the report to the court. Lawyers at Banke have hailed this order to the police as historical.

AF lawyer Basanta Gautam and others had pleaded on behalf of the victim.

« Back to overview