Related Links
Case Updates
Close Encounters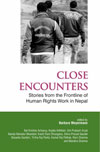 APO Kohalpur Files FIR against Nepal Army
Radha Devi Devkota, mother of the victim, had filed a writ petition at the Appellate Court on 14 August 2012 requesting necessary orders including mandamus to the police to register the FIR. Kranti was murdered by soldiers from Chisapani Barracks in 2001. He was not carrying any arms and he had surrendered to the soldiers pleading for his life. Despite this, the soldiers shot him to death. Radha Devi tried to lodge an FIR at the Area Police Office, Kohalpur and later at District Police Office, Banke against guilty soldiers including the then Major Ajit Thapa and Captain Ramesh Swar but the police refused to register it. She then had to knock at the doors of the court for justice. After many hearings, the court finally arrived at the decision to order the police to file the FIR. But the victim had to frequent the court as the full text of the order was not prepared for a long time.

Five months after issuing the order, the Appellate Court Nepalganj sent a letter with a copy of the order attached to it on 19 May 2013 to the police. Radha Devi, then, approached the Area Police Office, Kohalpur with lawyers and human rights defenders on 30 May 2013 for the FIR. Policemen, however, refused to register the FIR saying that the chief officer was not there and they had to ask the higher authorities whether to register it or not as it was conflict-era case.  Finally, on 2 June, did the police register the FIR.

The police had previously refused to register four other FIRs relating to conflict and later registered them after the order by the Appellate Court, Nepalganj. Even if 120 FIRs relating to human rights violations during conflict period have been registered across the country, there has been no substantial progress into the cases except that of Dekendraraj Thapa.

« Back to overview