Related Links
Case Updates
Close Encounters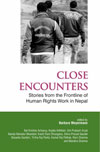 AF Raises Questions to Nepal Government on Torture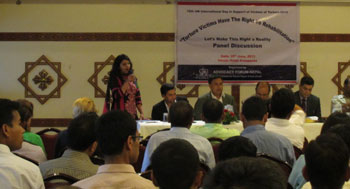 Speaking on the occasion, Dr. Hari Bansh Tripathi, Director of Advocacy Forum, summarized the findings of AF's annual torture report 2013 that corroborates the conclusion of the confidential inquiry carried out by the UN Committee against Torture under Article 20 of Convention against Torture which expressly confirms the systematic and prevalent practice of torture in state detention centers. Harikrishna Karki, Chairperson of Nepal Bar Association, highlighted the fact that the state, especially Office of the Attorney General, should take special steps to prevent and investigate into allegations of torture to detainees in police detentions. Ramesh Dhakal, Joint Secretary of Office of Prime Minister, acknowledged that torture is practiced in Nepal and said that government is not unwilling to prevent and investigate torture. He further said that the government is on the process of amending anti-torture laws in line with international standards. Attorney General Regmi informed that the Office of Attorney General has formed a special unit to monitor human rights violations in police detentions and prisons. He further said that the OAG has invested certain rights to Appellate Attorney Offices also to monitor and investigate into human rights violations in police detentions and prisons. Representatives from lawyer organizations, media houses and human rights defenders among others attended the program.
The report, titled
"Nepal: Is the Government Unable or Unwilling to Prevent and Investigate Torture?"
mentions that during the year 2012, AF reached out to 3,773 detainees, out of which 384 were women. Of them 930 were below the age of 18. This year, 22.3% of these detainees claimed that they were subjected to torture or other cruel, inhuman or degrading treatment in detention. Juveniles were found particularly vulnerable, with 34.7% of them claiming they were subjected to torture or other ill-treatment. The report also highlights the major failures by the Government to legislate to criminalize torture and the inadequacy of the current mechanisms that are in place to monitor, investigate and prosecute perpetrators and protect victims.
Regional and district offices of Advocacy Forum are also organizing programs today on the occasion of 16th International Day in Support of Victims of Torture in working districts.
AF has been monitoring the status of torture in government detention facilities since its inception in 2001.
« Back to overview