Related Links
Case Updates
Close Encounters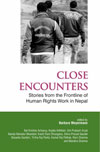 Victim Welcomes Arrest of Suspected Torturer in UK
Although torture is not a criminal offence in Nepal, the victim hopes that the British legal system will deliver justice in accordance with international treaties which criminalise torture wherever it occurs in the world.
If a prosecution does take place, as our client hopes, then out of respect for the right of a defendant to receive a fair trial our client will make no further comment.
When he learned of the arrest today, the victim said, "I am delighted and relieved to hear that finally the officer who was involved in torturing me has been arrested. I trust that the British system will deliver justice; something I was not able to get in my own country."
Hickman & Rose are experts in international criminal jurisdiction and has advised many victims of torture and war crimes in countries across the globe.  Kate Maynard stated today, "This firm has worked very hard on a number of these cases and it is a source of great satisfaction to know that the UK takes seriously its international obligation to investigate and where appropriate to prosecute alleged crimes of this nature".
For more information please contact:
Mandira Sharma        phone: + 977 98510 48475 (Advocacy Forum)
Kate Maynard            phone: 00 44 (0)7812 974613
[email protected]
Daniel Machover        phone: 00 44 (0)777 334 1096
[email protected]
Hickman & Rose solicitors
        Website:
http://www.hickmanandrose.co.uk
NOTES TO EDITORS
The UK, like other states, is permitted, and, in some cases (e.g. war crimes [grave breaches of the Geneva Conventions] and torture), required to exercise criminal jurisdiction over any suspect, regardless of their nationality or location of the offence, who is found in its territory, unless it extradites the suspect or surrenders that person to an international criminal court. Universal jurisdiction is the term that describes this form of jurisdiction over the most heinous international crimes, such as war crimes, torture, crimes against humanity and genocide.

In the UK, Parliament has given our courts jurisdiction to prosecute all suspected war criminals and torturers, including where neither the victim nor the suspect has any connection with Britain. This complies with treaty obligations (i.e. in the four 1949 Geneva Conventions and Protocol I to those Conventions – which protect civilians and those outside combat; and the 1984 UN Convention against Torture and Other Cruel, Inhuman or Degrading Treatment or Punishment - UNCAT), which effectively seek to ensure that there is no safe haven for those suspected of the most serious human rights abuses.


If the suspect is prosecuted for a torture offence then this will only be the second such case in the UK since the coming into force of section 134 of the Criminal Justice Act 1988 (on 29 September 1988). The first case resulted in a conviction in July 2005 of Farayadi Sawar Zardad for conspiracy to commit torture and take hostages in Afghanistan between 1991 and 1996 – see: http://www.cps.gov.uk/news/press_releases/135_05/


Hickman & Rose is a niche city firm with criminal defence and civil litigation departments. The civil team is renowned for its work in seeking public and private law remedies in the UK and other jurisdictions on behalf of victims of crime and other victims of the abuse of power by state agents within the criminal justice system.  Chambers UK Guide to the Legal Profession describes the civil department as 'a fantastic team – one of the best' (2010 edition). The combined resources and effective co-working of the civil and criminal defence teams position the firm uniquely to fight for justice on behalf of their clients in all arenas.


Advocacy Forum (AF) is a leading non-profit, non-governmental organization working to promote the rule of law and uphold international human rights standards in Nepal.  Since its establishment in 2001, AF has been at the forefront of human rights advocacy and actively confronting the deeply entrenched culture of impunity in Nepal.

AF's contribution in the human rights advocacy in Nepal has been recognized by Human Rights Watch (HRW) in terms of "One of Asia's most respected and effective human Rights Organization". AF is a recipient of a number of awards including "Women In Leadership Award" (conferred by Swiss Agency for Development and Cooperation)

« Back to overview