Related Links
Case Updates
Close Encounters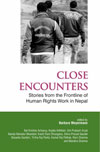 Writ Filed in Dekendra Raj Thapa Case
Laxmi had filed an FIR to the police on 22 August 2008 requesting investigation into the case. The police, however, failed to make any progress in the investigation for four years. Even after the registration of the FIR pinpointing the perpetrator, the police did not appoint any investigation officer, did not inform the respondent public prosecutor's office and even the public prosecutor office remained indifferent to the case. The writ requests the court to issue order to carry out prompt and effective investigation and try the guilty in the offence and provide effective remedy including reparation to the victim family.

Maoists had abducted journalist Thapa on 26 June 2004 and killed him on 11 August 2004 after inflicting severe torture on him. His dead body was found interred in a ditch at Dwari VDC-1, Dailekh. The victim family had filed the FIR pinpointing people including Bambahadur Khadka, Lachhiram Gharti and Keshav Khadka as perpetrators.

Advocacy Forum has been providing legal assistance to the victim family in the case.

« Back to overview