Related Links
Case Updates
Close Encounters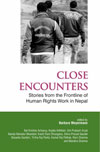 Conflict-era rape case filed with UN
Purna Maya was arrested by a team of the then Royal Nepal Army (RNA) led by Lieutenant Jibesh Thapa, aka, Kalo Thole on 23 November 2004. She was taken to Bhawani Baks barracks of Dailekh district. Before being raped by at least four soldiers in the barracks, she was blindfolded, tortured and repeatedly asked about her estranged husband, who the army claimed to be a Maoist.
Despite notifying officials about the crime by identifying at least one of the alleged perpetrators in 2006, there has been no investigation so far. Her lawyers were also barred from filing the First Information Report (FIR) with the police because of a law which states that complaints must be brought to the police within 35 days of the rape. An appeal to the Supreme Court calling for the registration of the case failed, leaving the victim without any remedies.
In the petition filed with the HRC, her lawyers have asked the Committee to find Nepal responsible for the torture she suffered and have also called on the Committee to find that a 35-day limitation period on bringing complaints of rape to police is discriminatory, and in violation of Nepal's human rights obligations.
Please follow the link below to view the press release:
Nepal: Landmark Conflict-era Rape Case Filed with UN (English Version)
Nepal: Landmark Conflict-era Rape Case Filed with UN (Nepali Version)
« Back to overview