Related Links
Case Updates
Close Encounters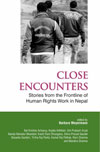 Baspani Victims in Kathmandu for Justice
On 10 March 2010, Devisara BK, Chandrakala BK and Amrita BK had gone to Baspani Forest at the Bardiya-Surkhet border to pick up Kaulo herbs when RNA soldiers shot them down without prior warning and later falsely accused them to be poachers.

Immediately after the incident Parliamentary Inquiry Committee, State Inquiry Committee and National Human Rights Inquiry Committee recommended to the government to award compensation to victims amounting to one million rupees and to bring perpetrators to book. "But none of this has been carried out," Tikaram Sunar, family member of the victim, said.

The victim families have registered an FIR at Bardiya District Police Office pinpointing Lieutenant Subodh Kunwar of Thakurdwara Jwala Barracks and others as perpetrators but the accused have not been brought to justice just because they are soldiers.

Speaking in the press meet, Advocate Ambar Raut and human rights defender Govinda Bandi said that the perpetrators should not be given any kind of immunity in any pretext.

Advocacy Forum has been providing legal assistance to the victim family in the case.

« Back to overview