Related Links
Case Updates
Close Encounters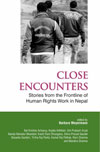 AF Nepal Observed 64th International Human Rights Day
Interaction Program
Marking the 64th International Human Rights Day, AF-Nepal organized interaction programs relating to core human rights issues. AF Nepalgunj organized an interaction program titled 'Victims of Sexual Violence: Access to Justice'. Participants of the program were determined to fight against the crime of sexual violence from their respective sides and work as much as possible to prevent such heinous crime in the society. Similarly, AF offices of Jhapa, Biratnagar, and Dhanusha also participated in similar interaction programs hosted by various organizations. In the programs, AF representatives emphasized on the need of truth and justice for the victims of human rights violations and expressed concerns over the rise of impunity in Nepal.
Documentary Screening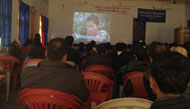 On the occasion of 64th International Human Rights Day AF screened its two documentaries on torture and enforced disappearance in Nepal. The documentaries 'The Last Message' and 'The Resurrected' were screened in the capital on December the 10th in a South Asian International Training on 'non-violent conflict transformation' organized by Kurve, Wustrow and BIKALPA, Nepal. Both the documentaries were also screened in Nepalgunj, Bardiya and Surkhet on 7th, 8th and 9th December respectively.
Candle Lightening Program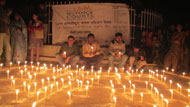 AF participated in candle lightening program organized by various human rights networks to commemorate the 64th International Human Rights Day. AF Kanchanpur and Dhanusha participated in the program expressing their solidarity to peace, justice, human rights and the rule of law. The candle lightening program in Kanchanpur was organized by the Human Rights Monitoring Group, a common network of human rights organizations working in that district and in Dhanusha, too, the program was attended by a huge number of human rights defenders and the members of civil society.
Blood Donation Program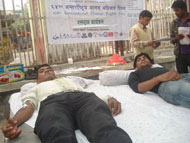 AF Dhanusha took a lead role in a blood donation program held on 9 December at Janak Chowk of Janakpur to mark the International Human Rights Day. In the program a total of 21 people, including human rights activists, Nepal Police and journalists donated blood. The blood donation program started from 9 am to 12 pm. Human rights organizations working in Dhanusha had observed the Human Rights Day for three days by organizing various programs. By organizing blood donation program AF Dhanusha has expressed its commitment and solidarity to human rights, peace and justice.
Peace Rallies and Morning Procession-Calling for 'Justice-friendly peace, Human Rights-friendly Constitution and Discrimination free Society'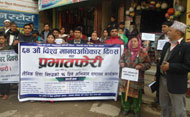 Human rights defenders, members of civil society organizations, journalists, conflict victims, women human rights defenders, and other stakeholders of criminal justice system joined the peace rallies and morning procession jointly hosted by different human rights organizations in order to observe the 64th International Human Rights Day. AF Baglung, Nepalgunj, Jhapa, Biratnagar, Dhanusha, and Kanchanpur marked their solidarity by participating in peace rallies that focused on peace, justice, human rights and non-discrimination and demanded that the government address the issues of victims without further ado.
« Back to overview