Related Links
Case Updates
Close Encounters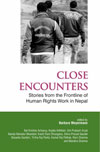 AF Documentary on HR Violations Screened in International Training
Speaking in the screening program Mr. Ganesh Pandey, AF staff and director of the documentaries, said that The Last Message covers the grim story of the families of the disappeared while The Resurrected is a sad account of torture survivors in police detention facilities.

'By means of such comprehensive documentaries, AF has essayed to put the problems of the victims of grave human rights violations in the forefront and has made tremendous efforts to establish justice and human rights in Nepal', said the participants in the program. Peter Stuedner and Stella Tamang, facilitators in the program, appreciated the documentaries for their wide coverage of serious issues.

Both the documentaries have already been screened in the capital and other AF working districts. Asia Human Rights Commission (AHRC) and Asian Federation against Involuntary Disappearance (AFAD) had assisted AF in the preparation of the documentaries.

« Back to overview