Related Links
Case Updates
Close Encounters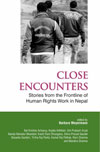 AF Documentary gains world-wide Media Coverage
All of those news agencies have applauded the efforts of AF in bringing the problems of torture survivors in the forefront. Torture was common phenomenon during Nepal's decade-long armed struggle and is also systematically practiced today, mostly in police detention centers.
The film and another one on enforced disappearance viz. 'The Last Message' whose production cost was about four hundred thousand-rupee (around 4000.00$)* were prepared by AF with the assistance of Asian Human Rights Commission (AHRC) and Asian Federation against Involuntary Disappearance (AFAD).
*the international news agencies have mistakenly printed it 350,000 $.
Click the link below for the news in detail:
http://sg.news.yahoo.com/nepal-civil-war-torture-documented-film-081912860.html
« Back to overview