Related Links
Case Updates
Close Encounters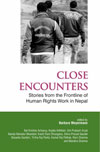 AF, HRW and REDRESS Release Two Reports on Nepal's Endemic Impunity
The first report on
de jure
impunity titled "
Held to Account: Making the Law Work to Fight Impunity in Nepal
" (and its
Nepali version
) makes the case for legislative review and reform. The report examines 20 pieces of Nepali legislation currently in force, against international human rights standards and Nepali constitutional law in terms of how they contribute to impunity for serious human rights violations, both past and current.
The second report on
de facto
impunity titled "
Adding Insult to Injury: Continued Impunity for War Time Abuses
" calls on the government to stand by its public commitments and international treaty obligations to conduct credible investigations and prosecute those responsible for abuses. This report follows three previous joint reports of AF and HRW, Waiting for Justice: Unpunished Crimes form Nepal's Armed Conflict (2008), Still Waiting for Justice: No End to Impunity in Nepal (2009) and Indifference to Duty : Impunity for Crimes Committed (2010) and provides a detailed look at six emblematic cases of killings, disappearances, and torture.
"Laws are used and abused to shield perpetrators from justice and to deny victims' rights" a press statement issued by AF and REDRESS said, adding:
"Nepal is in grave breach of its international human rights obligations to hold perpetrators accountable and provide prompt and effective justice to victims of serious international crimes – including torture, rape, extrajudicial executions and disappearances – both during the conflict and since. Recent developments, including the attempted pardon by the Cabinet of a Maoist Constituent Assembly member convicted of murder during the conflict period show that there is a danger of Nepal slipping even further into this pattern of abuse of power and denial of victims' rights."
"Five years after the end of Nepal's civil war, victims are still waiting for justice. Alleged perpetrators have been appointed to senior government positions and sent abroad on UN peace-keeping missions without ever facing an independent and effective criminal investigation", reads the press statement issued by AF and HRW.
The families of victims have fought hard for justice but not a single perpetrator has been successfully prosecuted for serious violations in a civilian court, the press release further said.
« Back to overview