Related Links
Case Updates
Close Encounters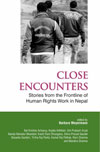 Pardon to Dhungel Contravenes CPA: Rights Activists Warn Protests
In a press meet at the Reporters' Club Kathmandu, they claimed that the government's decision blatantly violates human rights and the rule of law. They concluded that the decision is in contravention with international treaties and the Comprehensive Peace Agreement (CPA).

Condemning the decision, they claimed that it violates the victims' right to justice, weakens the rule of law and nurtures impunity.  The leaders demanded the government to implement its commitments to human rights and requested the President not to condone the unconstitutional decision.

Speaking at the press conference, AF Chairperson Mandira Sharma said that the decision raises a question about the existence of rule of law in Nepal. Rights activist Sushil Pyakurel warned that activists would stage street protests if the government did not retract its decision.

Nepali congress, CPN (UML) and other political parties in opposition have been protesting the decision to recommend pardon for Dhungel. The family of the victim has also requested the President to refrain from approving the pardon.

« Back to overview