Related Links
Case Updates
Close Encounters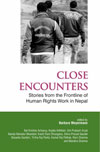 Government Pressured for Refraining from Amnesty to Dhungel
The joint statement signed by representatives from Advocacy Forum Nepal (AF), NEFAD, TRIAL, CVSJ, ICTJ and independent human rights advocates concludes that the decision further institutionalizes the negative culture of impunity. The decision is in contravention with international laws, Nepal's Interim Constitution and Comprehensive Peace Agreement (CPA) and it blatantly violates the victim's right to justice and reparation.  The statement furthermore requests the president not to uphold the decision of the council of ministers.

Okhaldhunga District court on 10 May 2004 had convicted Balkrishna Dhungel for the murder of Ujjan Kumar Shrestha and sentenced him to life imprisonment and confiscation of property. The Supreme Court on 3 January 2010 upheld the decision of the district court. As the verdict of the Supreme Court remained unimplemented, Sabitri Shrestha, sister of the victim filed a writ petition with assistance from AF, in response to which the Apex Court on 21 June 2011 clarified that there was no legal obstacle for the incarceration of Dhungel.

Meanwhile, human rights activists and victims' families have raised objections to the appointment of Maoist CA member Suryaman Dong as the State Minister of Energy. Nepal Police has issued an arrest warrant against Dong accusing him of abduction and murder of Arjun Lama in Kavre on 29 April 2005.  Claiming that the appointment of a person accused of homicide to the prestigious and powerful position of a minister might impact the ongoing investigation, they have demanded the government to immediately remove Dong from the post of a minister.

« Back to overview