Related Links
Case Updates
Close Encounters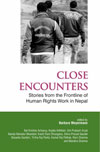 Concerns Expressed Over Rise in Impunity
Advocate Govinda Bandi's paper contrasted Nepal's International Law obligations with the government's efforts to evade prosecutions in the conflict related cases. He blamed the mistaken understanding regarding the Truth and Reconcilliation Commission (TRC) to be set up in the future, as contributing to the apathy of the regular criminal justice system. He condemned the recent seven point agreement signed by the major political parties for its stress on national reconciliation over accountability for serious crimes. Bandi advocated the need to criminalize human rights violations.

Mandira Sharma, the Chairperson of AF, pointed to the 112 FIRs registered on conflict related cases across the country gathering dust. Court orders for investigating into the FIR have not been adhered to, she stated.

Dr. Hari Bansh Tripathi, the Director of AF, emphasized that existing laws are adequate to address conflict cases. Other speakers in the program blamed the entrenched culture of impunity to be instrumental in weakening the rule of law in the country.

« Back to overview