Related Links
Case Updates
Close Encounters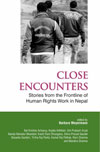 AF-HRW Release Report on Impunity in Nepal
The 41-page report,
"Indifference to Duty: Impunity for Crimes Committed in Nepal"
(and its
Nepali version
)a follow-up to two previous reports, "Waiting for Justice: Unpunished Crimes from Nepal's Armed Conflict," published in 2008, and "Still Waiting for Justice: No End to Impunity in Nepal," in 2009.
"One year since the last update on these cases, not a single perpetrator has been brought to justice for grave human rights violations before a civilian court", a press statement issued by AF and HRW said, adding :
"In 13 of 62 cases, the police still refuse to register the criminal complaints, sometimes in defiance of court orders. In cases where complaints have been registered, there is little sign of any serious attempts to investigate. Political parties put pressure on police not to investigate, police and prosecutors obstruct and delay justice, and institutions long opposed to accountability – most notably the Nepal Army – have dug in their heels and steadfastly refused to cooperate with police investigations."
The report provides an update on 62 cases of killings, disappearances, and torture between 2002 and 2006 that had been documented by AF and HRW. Most of the abuses were carried out by security forces, but a few cases involve the then Maoist rebels.
The families of those killed and disappeared have filed detailed complaints with the police seeking criminal investigations, but so far the Nepali justice system has failed miserably to respond to those complaints, the press release further said.
« Back to overview