Related Links
Case Updates
Close Encounters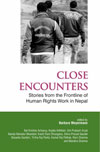 Manau Case (Mass Disappearances)
No news of the eight youths was received by the families for years despite repeated searches in all the army camps and police stations in a 50 kilometer radius and visits to the authorities. In 2006 the army informed the Neupane Committee, the ICRC and OHCHR-Nepal that seven of the young people were killed in crossfire during an encounter with Maoists in the Manau nursery jungle, but did not provide details as to what happened to the bodies. The families refuted the army's allegations. They say that as the young people left their houses unarmed and under the control of a large group of soldiers they could not have engaged in an armed encounter later that same night. Furthermore, the villagers would have heard if there had been gunshots in the nursery.

Advocacy Forum assisted the families of the victims to file habeas corpus petitions in the Supreme Court in 2003. All of the respondents denied detaining the eight young persons. In decisions reached between 24 August 2004 and 25 March 2005, the Supreme Court quashed all of the petitions on the grounds that the authors could not identify where and by whom each young person was being detained.

Having exhausted all available and effective domestic remedies as well as administrative remedies, the families of those disappeared submitted a communication to the United Nations Human Rights Committee on 24 January 2011.

« Back to overview