Related Links
Case Updates
Close Encounters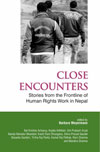 Dev Bahadur Maharjan (Illegal Detention, Torture, Disappearance)
Mr. Maharjan was finally released from detention on 7 January 2005, after his sister filed a successful petition for a writ of habeas corpus.  There has been no investigation by the state into Mr. Maharjan's enforced disappearance and torture, and Mr. Maharjan has not been given any compensation for his illegal arrest and detention.
AF and REDRESS submitted the communication on 31 December 2008. The case was registered on 14 February 2009.
Full Text of the HRC Decision
on Maharjan Case.
« Back to overview