Related Links
Case Updates
Close Encounters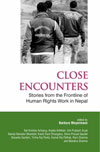 High Court Tulsipur, Banke Bench Issued an Order of Mandamus: Take Early Preparations to Mitigate COVID Risks
In the order, the Court ordered the defendants to i) make early preparation in order to mitigate the probable risk of the third wave of COVID-19 ii) form a Research Committee to study the post-COVID-19 impacts on people and submit it to the Court iii) continue the vaccination drive as per the protocols maintained by the Government, with prioritizing frontline workers such as lawyers and human rights defenders iv) arrange the required and skilled human resources, health equipment, and effective security for health workers v) continue making people implement the safety protocols such as using masks, maintaining distance, etc through effective dissemination of information through the spokesperson of concerned authorities along with coordination from the local level, social organizations, and media. The Court also ordered the defendants to submit the report regarding the implementation of the interim order to the Court, every month.
The writ petition was filed on 22 June 2021 demanding effective control and management of COVID-19 and quality health services of people amidst the pandemic. The writ highlighted the fact that the risk of the second wave of COVID-19 pandemic is still looming at present along with the probability of third-wave hitting the country which would make the situation uncontrollable if precaution and measures are not taken immediately.
On 23 June 2021, the Court had issued a show-cause notice against the defendants asking them to respond within 15 days.
AF has been vigilant in the issues and human rights violations during the pandemic and is taking necessary legal measures in this regard.
For more information, please refer to the interim order attached herewith.
« Back to overview